Booth and the Bad Angel
I Believe (Phonogram)
This eagerly awaited first single from the collaborative efforts of Tim Booth (James) and Angelo Badalamenti (Twin Peaks, Wild at Heart), with some help from Bernard Butler (ex-Suede, McAlmont & Butler), had the potential to be an earth-shattering meeting of the mind or a complete and total disaster of the ego, and it seems to have fallen somewhere in between.
The A-side, superficially, is nothing more than a semi-catchy pop song, geared for top 40 airplay with a monotonous, and even slightly annoying and overemphasized guitar line by Butler backed up by some of the most mundane lyrics ever penned by Booth, full of cheesy sentiment which he might as well have plagiarized from the inside of one of those inspirational cards one finds in a Hallmark store. As for Badalementi's trademark chilling keyboard sounds...well, they are so low in the mix, they might as well be non-existant.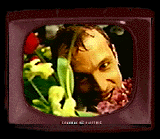 With both better and catchier songs on the album in the form of the upbeat "Old Ways" or the sensous "Dance of the Bad Angels," why choose the most average effort on the entire album as the lead single? The track only becomes listenable when one assumes that Booth's mundane lyrics are not a failed attempt at writing a spiritual love song, but rather a plea from the singer to break free of the world of verbally erected perceptions into a world of dreams where established reality and actual reality merge to allow him to shed his preconceived notions and achieve a degree of mental freedom. It is far-fetched, however, as the singer appears to have spent his down-time from his full-time project with James not in creating new mind-blowing philosophical visions, but in jumping out of airplanes, dancing, eating dead animals, and acquiring a new "hip" wardrobe with which to blend into the rock star ranks. Luckily, the mediocrity of "I Believe" is saved in the end by a duo of b-sides full of Badalamenti's eerie, ambient keyboards, and at least a trace of Booth's soul-searching lyrical talent of old which seem almost at odds with the boisterous, rock-star anthem that they support.
---