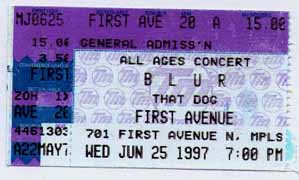 by Karla
It wasn't just a concert, it was an experience. The fact that the venue itself was 8 hours, and a country away simply added to the fact that this was quickly becoming more than just a show. But after all, this was Blur, a band that I have followed for quite some time. Previous attempts to catch up with the boys in both Vancouver and Minneapolis were unsuccessful. I had to put up with endless accounts from friends of how I missed such an amazing show. Well, I had had enough. It was my turn to experience what I had only heard about for years.
With the release of their fifth album in February, a new sounding Blur emerged. It was a sound that certainly swayed from previous pop melodies. It was a heavier, almost harsh sound. At a time when Oasis are still milking the mainstream for all it's worth, Blur have taken an unconventional twist by releasing an album which was met with critical praise from journalists, but skepticism from many long-time fans. I knew that the album had an underlining energy, one that would no doubt transmit into an amazing live show, a live show that would not easily be forgotten.
So the show was slated for June 25, 1997 at the First Ave Night Club In Minneapolis, MN. Since I live in Winnipeg, a good 500 miles away, a bit of planning was needed. After spreading the news to the locals, we gathered enough people to split the bill. There ended up being about 5 car loads making the trip. Blur is more popular in Canada than they realize. We loaded up the Festiva with tapes, chips, and Cherry Coke and headed out about 12:30 am Wednesday morning. Wired on caffeine and adrenaline, we managed to survive the drive and arrived a lot earlier then we should have (What, do you mean the speed limit isn't 90 mph on I-94? And yes, Festivas DO go that fast).
I had not had a minute of sleep since 9:30 am Tuesday morning. It was now Wednesday at 7:00 p.m. Needless to say, I was pretty wired at this point. The opening band, That Dog, came on according to schedule and played a 30 minute set. I had never heard of them, but supposedly they are huge in Minneapolis. By the reaction of the mostly 14-18 year old crowd crammed at the front of the stage, they were a local favourite. In all honesty, I didn't rush out to buy their CD. They were good, certainly above average for some opening acts that I have had to sit through, but nothing extraordinary.
While That Dog were doing there thing, my friend managed to snag us a couple of after show party passes. I was totally psyched. Not only had I finally been able to see Blur, I had an invite to the after show! Doesn't that sound exciting? More on the grim reality later.
Blur came on as scheduled at 8:00 p.m. They started with a mix of the last three albums. Knowing that they rarely play any of their early songs from Modern Life Is Rubbish and Leisure, the opening cords of "Coping" came as a total shock, only to be followed by the even more surprising "She's So High." They then treated the sold out crowd to a brand new tune, "Swallows In a Heat Wave." Not a bad tune in itself and one which certainly fit in with the current stylings of the new album. After that, it was as though the show was on permanent fast forward. This was the high energy Blur that I had earlier predicted.
Starting with a killer version of "Popscene," a tune which sounds a million times better live, Damon began his well known on-stage antics, no doubt fuelled by a bit too much of the pre-show party. From then on, the show never slowed down. "Chinese Bombs," "Advert" (*gasp* another Modern Life Is Rubbish Treat!), "Bank Holiday" (A.G.A.I.N), and "Girls and Boys" had the crowd bopping out of control. "Death of a Party" began to slow things down and unfortunately this song just didn't seem to come across as well live as it does on the album. When they played "This Is a Low," things couldn't get any better. Beautiful song in your walkman, even more beautiful live.
Of course they came back for an encore. They started with "Song 2", which instantly made the crowd go insane. For many of those in attendance, this was probably their first exposure to Blur, and what they had been waiting for all night. They played a few more songs, and eventually finished with "MOR." And then it was over. Blur did not disappoint. But wait! My Blur experience was not over yet. I had the after show party to attend.
So pass in hand, we made our way upstairs to the private party room. Only problem was, this room was more like a sweat shack then a party. It was disgustingly hot, sweaty, and cramped. When Graham and Dave (no Alex or Damon) finally did arrive, they walked in, looked around, and left. That was it, party's over kids, you can all go home. It was the dingiest, hottest, most crowded room I had ever been in, and I don't blame them for leaving. Forget people, this party room wasn't even fit for cattle. I blame the venue for this, as they obviously had no clue.

My friends and I did manage to catch up to Dave afterwards on the street. We chatted for a bit, got some autographs, and wowed him with the fact that we travelled 500 miles. He thought we were nuts, but we already knew that. After this show, I realised that there is a reason why Blur is the biggest band in Britain, and everyone in attendance at this gig now knows why. If only the rest of the world would wake up.
---